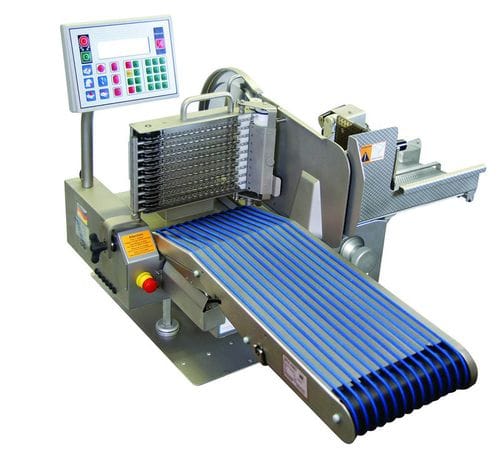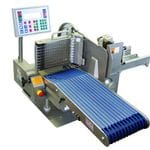 Jaccard VA4000AT Automatic Stacker Slicer
The world's only NSF approved Stacker Slicer features include, Dishwasher Cleanable chain frame design eliminates traditional cleaning issues. Liquid diversion system collects product juices for easy cleaning. Removable product advance system for complete and easy cleaning. Angled carriage design to facilitate easy slicing / discharge of low height products.
Food slicer for cutting nearly any kind of food.
Fully automatic operation with variable speed, approximately 25 to 55 strokes per minute, for shingling and stacking
Maximum stacking height 80 mm
Machine body, carriage, thickness plate and blade guard are made of stainless steel
Quick and easy cleaning. The carriage can be tilted aside
Chain frame, stacking device and receiving plate are removable
Safety lock of thickness plate when the carriage is tilted aside
Maintenance free direct gear drive of the blade with removable sharpening device
Slice thickness infinitely variable from 0 10 mm
Blade 300 mm, hollow-ground, hard chromed, stay sharp quality
Motor 3-phase or 1-phase, voltage and cycles as required
Conforms to security and hygienic requirements
99 easily programmable slicing programs
User-friendly, self-explanatory symbolic keyboard
Graphical representation of the slicing programs
Operator is led through the program on the display
Up to 4 stacks or up to 9 shingled portions side by side and up to 9 layers on top of the other
Additional options
Teflon version:
Ideal for slicing cheese
Carriage, thickness plate, blade guard and blade are Teflon coated.
Easy and precise slicing, no smearing and no sticking.