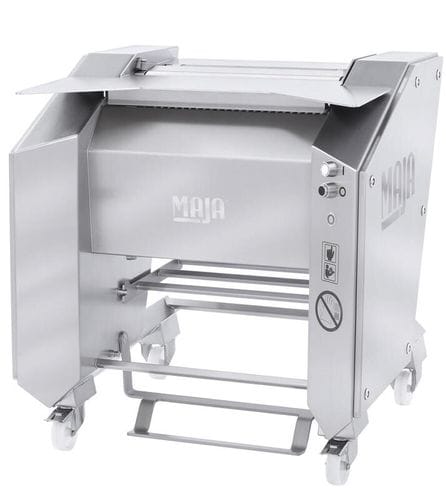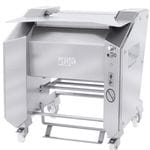 Maja Membrane Skinner EVM
Open-top membrane skinners
By removing the membranes with a membrane skinning machine from high-quality meat cuts in connection with the anatomic cut off, the yield can be increased considerably. The open-top membrane skinning machines, type EVM, are available in cutting widthes between 341 and 554 mm. MAJA offers two possibilities for tooth roller cleaning: Either the patented MAJA cleaning roller system without compressed air, the ideal solution especially for smaller processors. Or tooth roller cleaning with compressed air, which is recommended especially for big quantities in the industry and for the skinning of mainly beef cuts.
With the MAJA Membrane Skinning Machine type EVM 5004, different meat cuts, especially from pork, but also from veal, beef, game, poultry and horse, can be skinned easily and in a power-saving way. Thanks to the latest MAJA-technology an excellent yield is achieved and has positive effects on your profit. The EVM 5004 offers different possibilities of installation and is best suited not only for medium-sized butcheries, but also for the purpose of industrial processors.
The open-top MAJA Membrane Skinning Machine EVM 5006 is suitable for removing membranes from fresh meat cuts of pork, veal, lamb and poultry as well as for very big cuts for example of beef, according to the current CE-regulation. The machine considers ergonomic aspects for increased working efficiency, accurate and power-saving operation which lead to a steadily good skinning result.
The MAJA EVM 5006 offers the following advantages:
Improved ergonomic design allows an always good skinning quality.
Over-average cutting width for easier skinning of big cuts.
Well-engineered machine structure for increased throughput and reduced setup times.
Machine housing without lateral operating lever, thus space-saving structure and flexible installation.