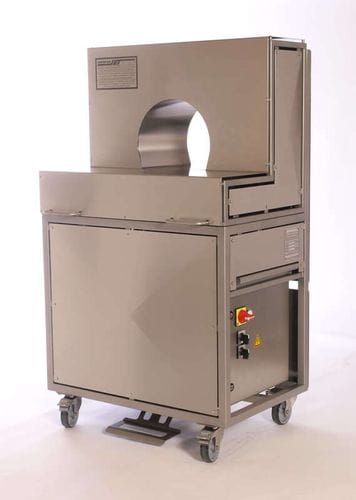 Siebeck Semi-Automatic Meat Tying Machine FRT-MF
A device with a variety of possible applications, in use worldwide for many years. Due to continuous, innovative improvement processes, constantly at the latest state of technology and adapted consequently to the sensitive requirements of food processing.
This robust industrial machine ensures top performance features with maximum availability.
Wear-free servo drives
Contactless switching of the drives
Automatic zero point correction
Contactless limit switches (initiators)
Selection function for 1-, 2-, 3- and 4-fold tying, cross-tying as well as continuous tying
Large spool minimises downtime
Interlocked removable catch tray prevents residues soiling the floor
Electrical connection value: 170-260 V, AC, 50/60 Hz, 1.3 kW
Sound pressure level: 72 dB (A) +/-1
Machine weight: FRT-M: 160 kg. FRT-MF-400: 165 kg
Output: up to 70 cycles per minute