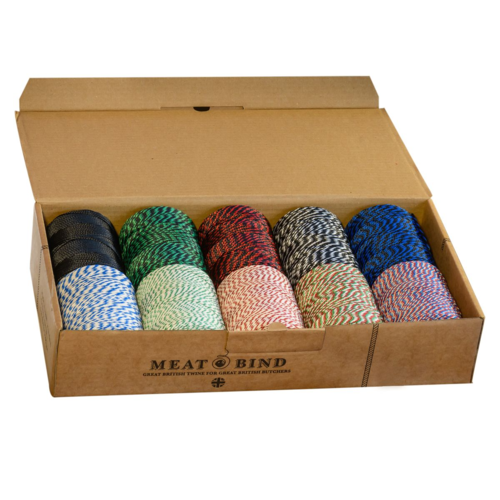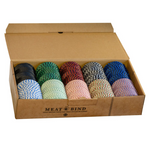 Henry Winning Q-1500BSBox Butchers No.5 String/Twine Selection Box - 10 reels
Henry Winning Butchers No.5 String/Twine Selection Box 10 reels
The Butchers Selection Box offers the chance to purchase 10 reels from our Butchers No.5 range of fully food grade and BRC approved twines beautifully packaged in a lovely gift box. Our selection box offers the top ten most popular choices in our colour combinations.
Butchers No.5 twines have become the twines used regularly by the butchery and associated trades. All of our twine is food safe and produced in the UK to the highest standards since 1880.
The Butchers Twines supplied are manufactured from first class, high tenacity yarns to produce continuous filaments, resulting in a thin multi-purpose twine with considerable strength.
Ideal for kitchen use and for meat preparation. This high-quality twine is not only great for tying meat, but is also ideal for wrapping gifts and creating exquisite craft projects.Features:
Our twine is food safe and fully roastable.
It is tough, durable and will hold substantial weight.
We are the only BRC accredited twine manufacturer in the UK guaranteeing quality and hygiene standards.
Our twines are supplied on a blue food safe plastic core.
Ideal for hand tying meats.
Included in our Selection Box:
| Twine | Length/Weight |
| --- | --- |
| 1 x Red & White Butchers Twine | 260m/500g |
| 1 x Blue & White Butchers Twine | 260m/500g |
| 1 x Green & White Butchers Twine | 260m/500g |
| 1 x Red, White & Green Butchers Twine | 260m/500g |
| 1 x Red, White & Blue Butchers Twine | 260m/500g |
| 1 x Black & White Butchers Twine | 200m/425g |
| 1 x Red & Black Butchers Twine | 200m/425g |
| 1 x Green & Black Butchers Twine | 200m/425g |
| 1 x Blue & Black Butchers Twine | 200m/425g |
| 1 x Black Butchers Twine | 200m/425g |